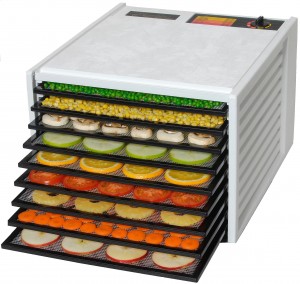 We are excited to announce… that we are now an Authorized Affiliate of Excalibur dehydrators! There are 2 dehydrators that we really recommend, that line up with the standards we have for choosing a dehydrator that really works. Each has its own pluses. (See our Dehydrator Resources & Recommendations to see those "what to look for" guidelines.)
The Excalibur was the first dehydrator I used, 25 or so years ago. The biggest plus (in my opinion) that the Excalibur has over our other top pick is its large drying compartment, allowing you (when you take trays out) to put larger items in, like dishes or jars, for making "raw food" recipes – like yogurt or bars, raising bread, or even drying bouquets or other craft projects. The other thing I really like about it is the front door and slide in trays (like an oven). That makes it really convenient to add and remove foods. The Excalibur also has square trays  with no hole in the middle, which is handy when you want/need a solid square shaped food. And, without the motor/fan on the bottom, crumbs and spills are more easily cleaned up. No danger of harming your motor/fan from food getting in it.
Other features, that it shares with our other top pick, for good dehydrating are:
adjustable thermostat, (from 85°-145°,) for the right temperature setting for the various things you dehydrate,
air flows horizontally across each tray for more even drying and no flavor mixing (i.e. you can put different foods on different trays),
opague (not transparent) for nutrient retention
The Excalibur also:
is Made in the U.S.A. – all parts and assembly
is Durable – backed by a 10 year warranty
is the Top rated dehydrator by many in the "raw food" community – people who do a LOT of dehydrating, as well as used by many gourmets, Culinary Institutes and Universities
has 15 Sq. Ft. of drying space (on the 9 tray model)
has a 26 Hour Timer (option)
 Learn more about the Excalibur or purchase here.

Bottom Line: I'm not ready to fully give up our other dehydrator nor our recommendation for it. (It has features I love too.) But I am excited to offer the Excalibur as another excellent option. Take a look at both and see which will work best for you.
 Who needs a dehydrator?
Gardeners: Put up that produce for the winter – the fast, easy, and cool way that takes far less space and weighs far less than canned or frozen, and retains far more nutrients. Even if you don't garden, stock up and dehydrate when foods are in season and on sale.
Outdoorsmen(women)/Hunters: Turn that meat into jerky. Again, it's the easy way to store it in less space and with less weight. Don't hunt? Like the non-gardener, buy when on-sale and make your own for far less money and far better nutrition than store-bought. Also make light weight foods to take with you for the campground or snacking along the way.
The Generally Health Conscious: Make easy healthy snacks for you and your children, for a fraction of the cost and better nutrition. Dried fruits, vegetable chips, leathers/roll ups, etc. with no added ingredients you don't want in them.
Hobbiests: Whether you're drying flowers, herbs, craft projects, or making doggie treats you'll love a dehydrator.
Living Foods Eaters: Those on a high raw diet will love the Excalibur for preparing "gourmet" raw dishes, dehydrating snacks, and more – with the ability to set the temperature low enough to retain the viability of the "life force"/enzymes in the food.
YOU!