I just made the yummiest "death by chocolate" type, 3 Layer brownies. The base layer is brownie. The middle layer is a cream (almost mousse like) with peppermint. The top is ganache.  I adapted a recipe I found online. Oh, and it's a "raw food" recipe – no baking – and Good for You-Naturally!™
It's close enough to Friday to make this a Friday Food post, especially since so many have asked for the recipe. So here goes….
Decadent 3 Layer "Raw" Brownies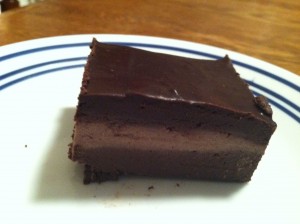 Brownie Layer
3/4+ cup raw almond flour* (see below)
1/2 cup raw cacao powder
pinch nutmeg
very small pinch unrefined salt
Mix together. Add:
1/4 pure maple syrup
1/4 tsp. pure vanilla extract (mine's homemade)
approx. 2 Tbl. pure water
In food processor, add maple syrup and extract to dry ingredients, process. Gradually add water to get just wet enough to be all mixed and hold together – brownie consistency. Press into small pyrex rectangle pan.
(This is a bit different than my regular bRAWnie recipe, which would also work as a base – but the maple syrup in these is yum.)
Cream Layer
(This makes twice as much as needed for this small pan. But my food processor wouldn't do the half-size recipe. I left half of this cashew cream without the cacao in it for another use.)
1/4 cup fresh coconut milk (blend coconut meat with coconut water)
2 Tbl coconut butter (Artisana brand is what I have)
1 cup raw cashews, soaked
approx. 20-25 drops Sweet Leaf stevia drops (plain or peppermint) and
4-6 drops doTerra Peppermint Essential Oil  (whatever to get the right sweetness and as pepperminty as you like – since this was my first time making this, I used a combination of these trying to get just the right mix. Next time I'll get more precise.)
2 Tbl. raw cacao powder
Process until smooth and creamy. Spread about 1/2 on top of brownies and refrigerate to set.
Ganache Topping
1/2 cup pure maple syrup
1/2 cup + 1-2 Tbl. raw cacao powder (told you this was death by chocolate!) 🙂
2-3 Tbl. raw extra virgin coconut oil
1/2 tsp pure vanilla extract
1 Tbl  coconut butter
(Again I had to do a bit of adjusting, by adding a bit more cacao and the coconut butter to get a thicker consistency. You want a soft creamy spreadable texture. Not as stiff as frosting, but not runny.)
Process till soft and creamy. Spread on top and return to refrigerator.
(This Ganache would make a scrumptious fudge topping for ice cream, or frosting for cupcakes, or just eat it with a spoon.) 🙂
You could also double the brownie recipe, and omit the cream layer for a plain "frosted" brownie.
Mm-mm good.
* Almond flour – Get 2 for the price of one. I make almond flour from the pulp leftover from making almond milk. (Almond milk instructions in Good for You Naturally!™ Weekly Menu & Recipes – Level 1.) Dehydrate almond pulp till dry, then blend/process into flour.