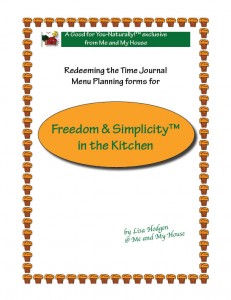 Does 5 p.m. bring dread and panic as you try to figure out what's for dinner? These simple instructions and forms will help you organize and plan the meals your family likes best.
Includes forms for Breakfast, Lunch, Supper and Snacks; for categories from Main Dishes, Salads, Vegetables, Breads, Vegetables, Sides, to Desserts; Weekly Menus; and Hospitality/Blessing Menus; and Shopping Lists. Complete instructions for how to organize the foods your family enjoys into easy to plan menus. 36 forms included, for you to choose from, using what works best for your family.
$7.50 – Now $3
Format: pdf ebook
If you've purchased and use this resource, leave a review in the comments below.