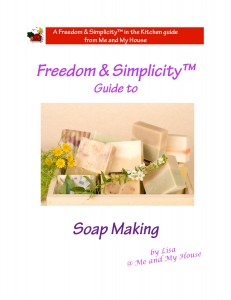 Have you ever wanted to make soap? What's held you back? Soapmaking can be very easy and quick, and require next to no investment. Get started with this guide.
This guide will introduce you to soapmaking and walk you through making a very high quality pure and mild everyday, multi-purpose bar soap. You may want to expand to fancier soaps and more complex methods after you get these basics down. But you'll return over and over to this quick and easy basic recipe for your everyday needs. This guide is great too for those that just want to "try it" as an inexpensive, experimental one-time project.
4.95 – Now $3
Format: pdf ebook
If you've purchased and use this resource, leave a review in the comments below.