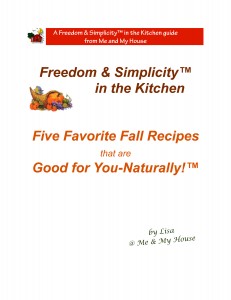 Fall is in the air, and I've got a few of our favorite Good for You-Naturally!™ recipes pulled together in this book for you. These recipes use real ingredients that are natural and don't tear down your health, but are delicious family favorites. No weird ingredients. No weird taste. Just about every category covered here:
Creamy Caramel Dip
Sunny Apple-Cinnamon Granola
Pumpkin Muffins
Pear & Greens Salad
Corn Chowder
3.00 – Now $2.00
Format: pdf ebook
If you've purchased and use this resource, leave a review in the comments below.