Homestead Blessings: The Art of Sewing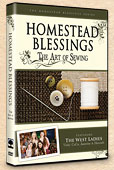 The West Ladies are back—Vicki, Jasmine, Hannah, and CeCe—in The Art of Sewing. This inspiring and educational DVD teaches a wide-range of fun and useful sewing skills.
Expand your knowledge of sewing with the helpful and down-to-earth instruction The West Ladies are known for, and develop a wide assortment of useful skills that will assist in making wonderful sewing creations.
This program is full of useful sewing instruction and tips that will inspire and teach seamstresses of all levels. From pillow cases, to baby blankets, to blouses, skirts and rag quilts, viewers will learn a host of techniques. If you are just starting out, or expanding your skills with new tips and ideas, The Art of Sewing is the perfect tool.
Order Franklin Springs' latest DVD in the Homestead Blessings series Today!