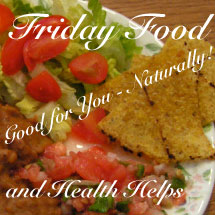 Creamy soup for cold nights. A family fave with whole wheat bread straight from the oven, and a veggie tray. As always, a quick and easy, family friendly recipe that is Good for You-Naturally!™
Cream of Broccoli Soup

Serves approx. 3 (we triple this for our family of 8)

3 cups veggie (or chicken) broth
1 head broccoli, diced
1 small onion, diced
3 Tbl. real organic butter
3 cups milk, homemade almond or raw goat
⅓ cup whole wheat flour, fresh ground

1.Prepare veggies.

2.Cook broccoli in broth.

3.Saute onion in butter.

4.Blend above with 1 cup cold milk, till smooth.

5.Add to one more cup of milk and heat until bubbly.

6.Shake flour with last cup of milk.

7.Whisk flour and milk into soup. Cook until thickened.

If you like the cheese thing, grate a little on top of each bowl after dishing up.