I have so many projects to catch up on here, but I'm going to work backwards, from the latest – back, and hopefully some new ones scattered throughout too.
Last month, right after our daughter's wedding, was our granddaughter's 5th birthday. My intentions were to make her a set of paper dolls (was thinking probably magnetic) but I didn't have all the supplies (because – after I ordered the Cricut cartridges – I couldn't find all the other things I still needed here in town, and didn't know that in time to order them.) That led me to the night before her party and still not knowing what to do.
At 10:30 p.m. I went to Walmart for supplies, then came home to start on a fabric doll house with purse-type handles for carrying along. If I'd had more time I had more ideas for decorating, but was happy enough with it to call it good and give it to her. It's the perfect size for small dolls, like Polly Pocket or such. I think it turned out really cute.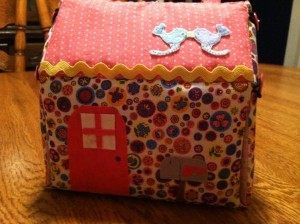 The frame is plastic canvas, covered with batting. The fabric insides and out are sewn together, then the frame inserted. 4 different "fat quarters", plus scraps for the decorating, are needed.
I love the mail box. My door – was just OK, IMO. The love birds on the roof are fussy cut from a flannel print.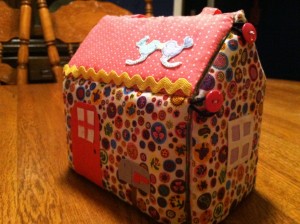 This side has a window, backed by the same fabric I used for curtains inside. The house is "closed" by 2 buttons on each side and one at the top. The loops are small covered pony tail holders.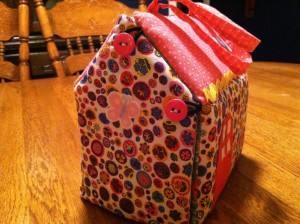 This side only has a butterfly (another flannel cut out), but you can see the handles better.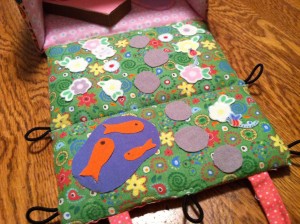 When you open it up, you're greeted with a lovely garden, with a stepping stone path, flowers (more flannel cutouts) on either side, and a goldfish pond.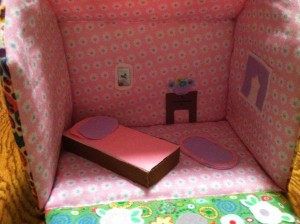 Inside we have the inside of the window with curtains, a rug on the floor, a table with drawer and a bowl of flowers on it, a mirror on the wall, and a bed with pillows. The bed is a box I made from card stock, then covered with fabric. The pillows "puffed" with batting. The mirror was made by using silver heat embossing powder.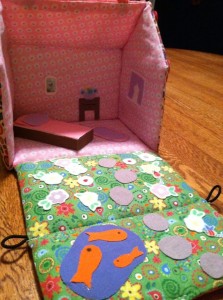 And lastly, the whole inside.
What was your last sewing/craft project?
* This post shared on Teach Me Tuesday Homemaking link-up

[subscribe2]