Our church is presenting the Living Lord's Supper for our community. It is a powerful representation of Jesus' last supper with his disciples. The scene is set up like the famous painting of the Last Supper by Leonardo da Vinci. Each disciple introduces himself and wonders if it could be him who will deny his Savior. In-between every couple of disciples' monologues is a choir or solo/duet piece.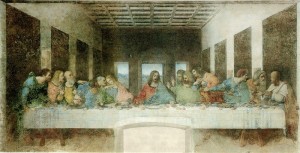 As many of these types of presentations are, it is a family affair for us, with many of us involved. From curtain puller – #2ds looks mighty sharp in that white shirt and black tie 🙂 – #1(at home)dd is helping with make-up, and she and I are in the choir. I also sing a powerful solo. I love this song! and am glad I got the opportunity to present it in this production.
Dress rehearsal was Thursday, Passover night. We had an awesome time of communion together. Our first performance was last night, Good Friday. 2 more to go, tonight and Resurrection Sunday evening. This has made a busy season for our family, but one that has been well worth it. We pray that God, the Author and Maker of all, will touch and convert hearts through the message of the sacrifice of His Only Begotten, sinless Son, for sinful, rebellious people that they might have everlasting life and communion with their Maker, Lord, and Savior.
Have a Blessed Resurrection Day! as you reflect on what our Lord has done for us. It is finished. Salvation has been bought for God's people.
Listen, as the composers of the song I sing perform it:

For Me and My House ~ At Jesus' feet,
Lisa @ Me and My House ~ Discipleship for Life!
1 Thessalonians 5:23
Order Christian & Home Ed Resources here
Get future posts to this blog by email:
[subscribe2]
SaveSave