I've finished the last (3) of the cards for a while. (One left for this year, at the very end of the year, and I'm not making it ahead of time, because she lives here and crafts with me.) 🙂  I can only share one today though, because the other two haven't been given yet, and are both to people who may possibly see these posts. So stay tuned.
Today's card was a fun one to make. It's a twist and turn card, that is easy to do but creates a unique, fun shape and design. It just opens normally, (but people wonder and try to do differently.) 😉 I put tags in both pockets, but it is great for a gift card too. I've also seen it online with a large die cut on the front, rather than using it as a pocket.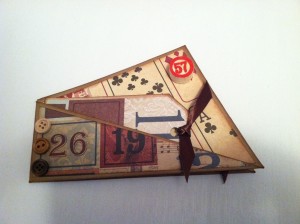 The base is a simple half-sheet of 8.5×11″ card stock, cut 4.25×11″. (I used Recollections Kraft from Michael's.) Score on the diagonal. Lay so the length is horizontal, then fold left (large) side up and crease with bone folder. Then score in half vertically, fold and crease with your bone folder.
Need a visual?

I matted all 4 sections with "pretty paper". The lower mats are cut from 2 pieces, each 2×5.5″, cut on the diagonal from top left corner to lower right corner. If your paper does not have any directional pattern to it, you can use just one piece and use the 2 cuts, 1 for the front, one for the inside. My paper had direction, and I wanted 2 different designs, so 2 pieces. (And yes, I wanted the Bingo board to go sideways, so you could better see what it is.)
The upper mats are cut from 2 pieces, each 4.5×4″. The cut is made on the 4″ side at 2″ (the middle) of the left side down to the lower corner of the right side. You will use the top part of this piece. You can use plain (instead of patterned) paper or card stock on the inside if you'd like to put your sentiment there. I put my sentiments on the back of my tags.
I also chose to mat the left of the inside of the card. Typical you may not do that, but if you're like me and want to, you'll need a piece 5.5×4″ and will need to cut off the bottom and the right side at angles. (I don't have measurements, I just marked and cut it to fit.) And I chose to make tags for the pockets. I believe they were 2.125×4.25″ and cut 1/2″ over and down on the diagonal–or maybe I had my Tonic Studios tag (angle) punch by then and used it. The mats for them were 1/4″ smaller in length and width.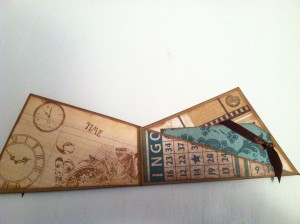 I matted each place with a different patterned paper, as my emphasis was numbers. The receiver and their family continually joke about age, so the sentiment on the back side of the tag in the front pocket was "It's just a number! Happy 57th." (The other tag has our signatures on the back.)
The papers I chose are from DCWV Heirlooms stack. Edges are inked in Tim Holtz Vintage Photo Distress Ink. The embellishments are: Bingo number, brown buttons (in a glass bottle, so cute,) and Clock gemstone from Paper Studio. The stamps (on the left inside) are from 3 different sets, and stamped in Rich Cocoa from Memento. (I think. If not, they're also Vintage Photo) Pocket watch: Stampabilities "Time & Travel" set, "Time" and clock: Fiskars "Journey" set, 36 and #25 with flowers in urn: Kaisercraft "36" edge stamp.
Hope you enjoy my fun little "Numbers" card. If you make (have made) a Twist and Turn card, I'd love to see it.
[subscribe2]
SaveSave