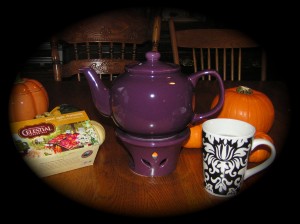 Yes, it's not only soup weather. We've also hit tea weather. The hot tea started here when a couple dc had scratchy throats and wanted to nip it in the bud before it got worse. Throat Coat did the trick – along with some EOs.
.
But with the chilly, rainy, dreary weather, the tea spree was on. I decided to pull out my new tea pot with warming base I got from Let's Do Tea this summer. (Cool, ain't it?)
.
Chamomile tea is a favorite around here – Sweet Apple Chamomile, Sleepy Time, and plain ol' straight Chamomile. Nice that it's a relaxing herb, but it also relaxes enough to make you sleepy. Not something we needed to drink all day! English Toffee is a new blend I got from Celestial Seasonings. It is an herbal coffee-sub, made with chicory root and such. I also like Teeccino. But our tea is usually just my own herbal combinations or Celestial.
.
Never "real" tea. Many reasons I'll get into on another day. But good enough reasons you should consider. For today, just go have a cup – or pot – of herb tea instead of one of the caffeine containing alternatives. It will be helpful instead of harmful to your health – and will taste GREAT! See my pregnancy herb blends here. Watch for more herb tea recipes for the whole family in Good for You-Naturally!™~ Simply Beverages.